WHAT IS EMOTIONAL INTELLIGENCE?
Emotional intelligence is described a set of emotional and social skills that collectively establish how well we:
Perceive and express ourselves
Express thoughts
Develop and maintain social relationships
Cope with challenges
Use emotional information in an effective and meaningful way
We promote the thinking that emotional intelligence can improve and impact every relationship you have, including the one with yourself (yeah, that voice inside your head!).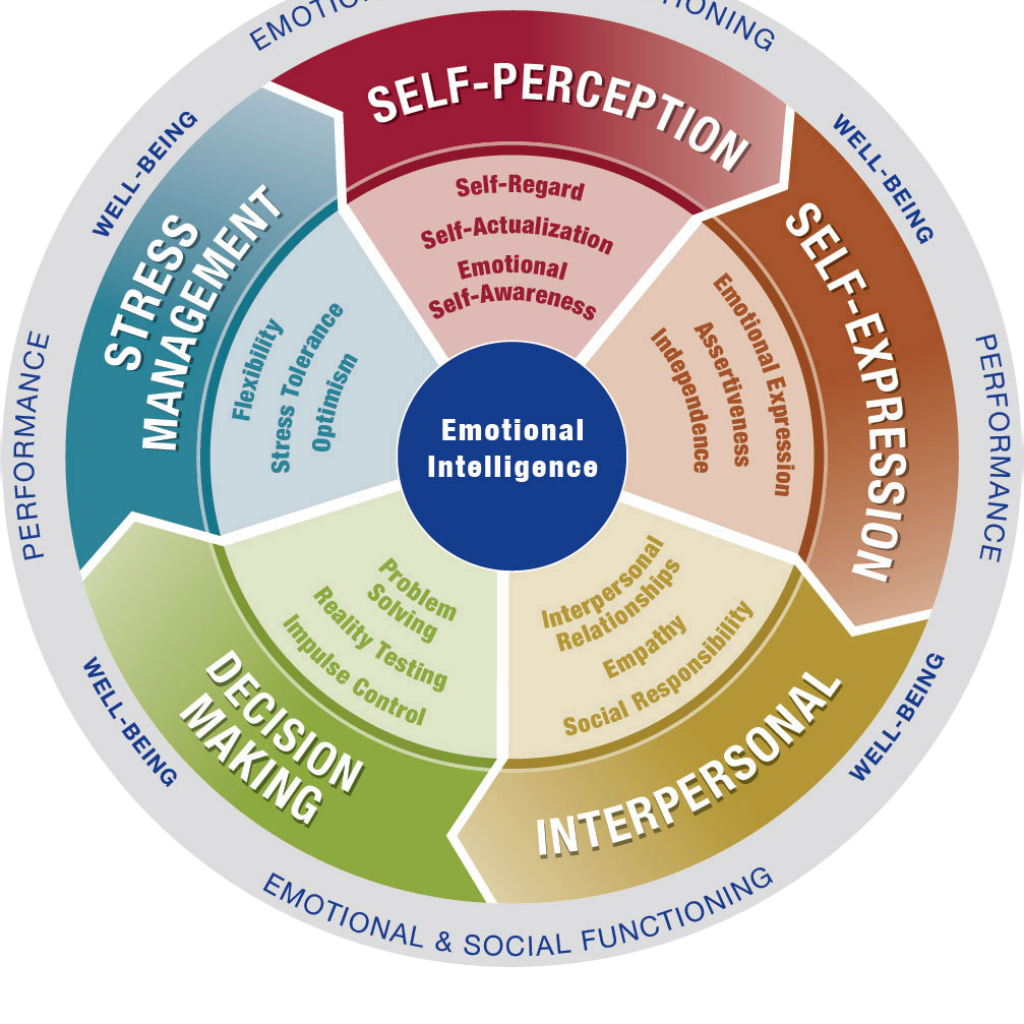 The EQ-i 2.0 Model of Emotional Intelligence is made up of 5 areas, or Composite's, and 15 subscales – three in each composite. This detailed structure allows you to identify and work on specific areas of your emotional intelligence.
Developing your emotional intelligence can help you to:
Build your confidence
Express yourself with the desired impact
Create stronger, more functional relationships
Make decisions more effectively
Handle stressful situations
[info_list][/info_list]
Self-Regard is respecting oneself while understanding and
accepting one's strengths and weaknesses. Self-Regard is often
associated with feelings of inner strength and self-confidence.
Self-Actualization is the willingness to persistently try to
improve oneself and engage in the pursuit of personally relevant
and meaningful objectives that lead to a rich and enjoyable life.
Emotional Self-Awareness includes recognizing and
understanding one's own emotions. This includes the ability to
differentiate between subtleties in one's own emotions while
understanding the cause of these emotions and the impact they
have on one's own thoughts and actions and those of others.
Finding the right coach is an imperative part of the process. We have a team of highly effective, experienced, and certified coaches for you to choose from. Our coaches not only have the credentials you need to be certain of their coaching intelligence and proficiency, but they also all have real-world leadership experience in a variety of settings.
One-on-One Coaching Packages start as low as $995 and include an emotional intelligence assessment.
[ult_buttons btn_title="MEET YOUR COACHES" btn_link="url:http%3A%2F%2Fwww.clearpointleadership.com%2Fabout%2F||" btn_align="ubtn-center" btn_size="ubtn-custom" btn_width="400″ btn_height="100″ btn_padding_left="25″ btn_padding_top="25″ btn_title_color="#3691ad" btn_bg_color="#ffffff" btn_bg_color_hover="#cccccc" btn_title_color_hover="#444444″ icon_size="32″ btn_icon_pos="ubtn-sep-icon-at-left" btn_font_family="font_family:Montserrat|font_call:Montserrat" btn_font_size="desktop:24px;"]
WANT TO LEARN MORE ABOUT EMOTIONAL INTELLIGENCE?
[ult_dualbutton button1_text="CONTACT US" icon_link="url:mailto%3Ainfo%40clearpointleadership.com||" btn1_background_color="#3691ad" btn1_bghovercolor="#4c4c4c" icon="Defaults-search" icon_size="15″ icon_color="#ffffff" button2_text="BOOK YOUR FREE DISCOVERY SESSION" btn_icon_link="url:https%3A%2F%2Fclseqdiscovery.acuityscheduling.com%2F||target:%20_blank" btn2_background_color="#4c4c4c" btn2_bghovercolor="#3691ad" btn_icon="Defaults-calendar" btn_icon_size="15″ btn_icon_color="#ffffff" btn1_text_color="#ffffff" btn2_text_color="#ffffff" btn1_font_family="font_family:Montserrat|font_call:Montserrat" btn2_font_family="font_family:Montserrat|font_call:Montserrat"]